"When I'm worried and I can't sleep, I count my blessings instead of sheep, and I fall asleep counting my blessings."
I have been thinking a lot about the victims of Sandy in the northeast. Charles returned last week from a business trip where he was looking at the best way to supply the people of New York and New Jersey with the services they may need from the home improvement company he works for. He brought home some very touching and disturbing stories that were shared with him when he visited different neighborhoods.
It's been my experience that disaster, death, and tragedy tend to bring out the best, and unfortunately, the worst in people. There are people there now who are doing everything they can to help and there are people who are looking for an easy buck and think nothing of being dishonest to get it. Fortunately the good always seem to outnumber the bad.
It always concerns me that immediately following a disaster or death, people are there to help out in any way possible. But as the days turn into weeks and the weeks into months, people return to their routine. Unfortunately, this almost always coincides with the shock of the tragedy wearing off and the feelings of depression, anger and loneliness setting in for the victim. The very time when people are feeling the most emotionally insecure is when there is the least emotional support.
That's the time when I pray that signs of hope are realized by these victims. For some it will be a friend who refuses to stop sending food. For some it will be a minister who shows up with a crew "out of the blue" and helps tear out the sheetrock already covered with mold. And as he does this, his home sits with the very same problems that he is helping others remedy.
Signs of hope are the most precious thing in the world for someone who has experienced a devastating event.
We were lucky after our fire in 2008. We had neighbors that were beyond supportive and an insurance company that did everything they promised the morning after the fire. But there was still a 10 year old daughter who was afraid to go upstairs by herself and would yell down intermittently, "Everything is okay, right?" This went on for almost a year. The emotional baggage that disaster leaves on your doorstep as it takes away the boxes of keepsakes can be a little much at times.
But then comes a sign of hope, that normalcy will return even if it is a new normal.
As I said we were lucky, and these signs of hope almost always came from a caring person, known or unknown. But on one particular day I was opening a box filled with a hodgepodge of items that had been pulled out of our house and sent to Greensboro to be "ozoned" and cleaned, if possible. In this box was useless junk that I'm not even sure why I had….. a tin box that was out of style and kind of tacky, an old beater from a long gone mixer, a metal spoon, and in the bottom was something that made me say…. "Oh my gosh, this can't be!!!!"
Our Christmas ornaments were kept in the attic and only a few made it out in any condition to be saved. None of the ones the kids had made in school were saved, but two hallmark ornaments, and a cheerleader and football player ornament that my mother painted for Charles and me when we were in high school made it out. But those were about it. Or so I thought…
In the bottom of the box was this:
This ornament is plastic…. I don't know why it made it out of the fire.
The 1982 date is not when Charles and I were married. That was in 1989. The 1982 date is from our junior year in high school when Charles and I first started dating. This was a gift from him to me. We were both 16 at the time and I've always thought that was a pretty gutsy (or psychic) gift from him! For obvious reasons it has always been special to us and there is a mixture of "wowing" and chuckling when we hang it on the tree every Christmas.
Finding this ornament brought a lot of excitement and joy during a very stressful December day. It was comforting. It was unbelievable!
…… IT WAS A SIGN OF HOPE.
And when I went to bed that night in the middle of a thousand things to do and a hundred things to worry about….. that night, instead of counting sheep, I fell asleep counting my blessings.

I am linking up with Rooted in Thyme.
I am linking up with Debbie Doo's and her Newbie Party.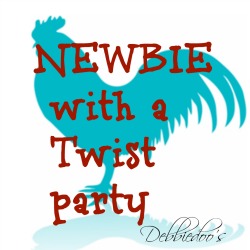 I'm linking up with Jennifer Rizzo and Cottage Magpie.
1 Comment »